Note: I will be taking down all the massive entries I did, except for the first day. However, this time, they will have photos. Thanks to a senior who has a memory card reader on his laptop and nearly 24 hours I spent on transferring the files out, editing and saving… (serves me one gigabyte right for taking 400+ shots)
I'll be placing an entry each day with photos starting tomorrow. Main blog photos. Additional will be added as I place it on DeviantArt, 5 photos a day. Can't overload everyone's deviantwatch, can I? So see you 'till time and entries catch up.

23rd Jan 2006: 2nd trip to Singapore.
On the previous trip down to submit my application for a visa, my (slowbro) aunt who is a 'well-seasoned Singapore traveller', so-called, decided to drag me around the streets shopping for clothes. Mind you, I received a nice harvest from June, my cousins AND aunts… I have way more than enough clothes to wear to such an extend, I could open a lil' shop.
And me being so ku hong jou (stingy), with only SGD200 in hand, I managed to buy a nice MNG pure cotton top for… how much was it again? SGD25+ if not mistaken.
On this trip, (after complaining to my mom and had a huge argument with her to hell and back) my aunt was adviced to give me some FACE to sightsee. I AM a shop-a-holic… more to the window-shopping category… but ONLY AFTER I sightsee… beh!
And I was given many (blessed) opportunities, I gotten numerous of time-out AWAY from her to relax, and pick up my sanity.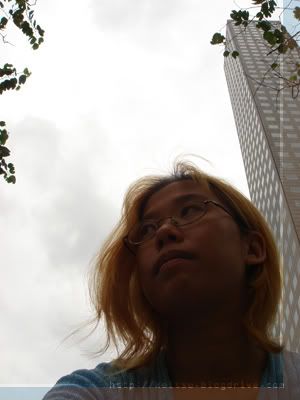 Poser! Thanx!
Awe Surge
The BeasthDog of Gold
I did managed to take many photos for the trip… but I think half-asleep, I TERdeleted a video of the koi fishes and the cheap food we manage to find that was tasty.
However, the next time I'm going down there, I swear on what's left of me that I WILL NOT GO DOWN WITH HER ANYMORE. If I were to go down again… MAMIE, you are coming down with me!!! If my brain is gonna be pureed, yours MUST join the fray!
===
6th Feb 2006: Leaving my comfort zone.
Doing last minute look around my place, giving away hugs goodbye (though my Babie cat shoved me, fork you, wait 'till I get back at you, cat!), I left my home to the airport. An awful trip 'coz I cannot 'TAHAN' car too long and it was cramp (taxi wheee).
Finally arrived and did what I've always wanted to do since we sent Priyanka off… Sit in front of the trolley. :D Lil' bro pampered me by pushing me around, though when we stop, I nearly flew.
Met up with June and Neo. Did last minute checking for weights and food before I left with teary goodbyes. Though I should have given my mom a bigger hug… but it would do at the moment.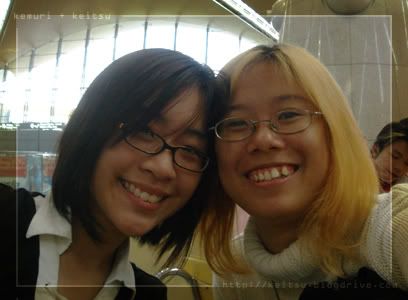 Our last photo together after gawd knows how many years. We were supposed to do the card at sungai wang.
June: not sure if you did chase me so… bleh! Met up with EeLyn without much probs of being 'sesat jalan'.
Saw Alex and the rest who was supposed to leave on the early flight. Somehow I couldn't mix with them at the beginning. Alex's parents came along so I was feeling EXTRA lonely. Sent out massive goodbyes. Hm hm.
===
Arrived Singapore and I totally lost them and unsure whether to wait for them before cursing hell and went and do everything by myself.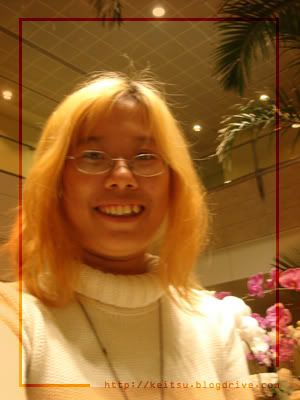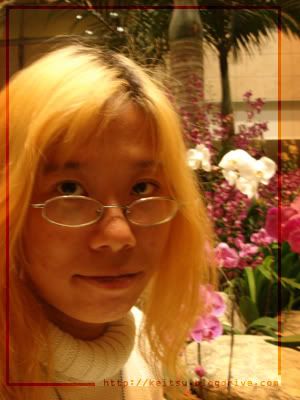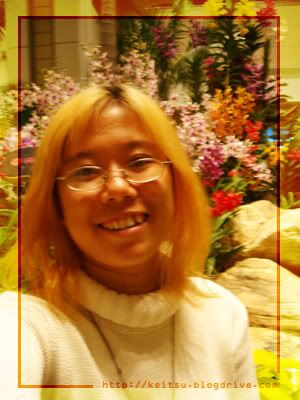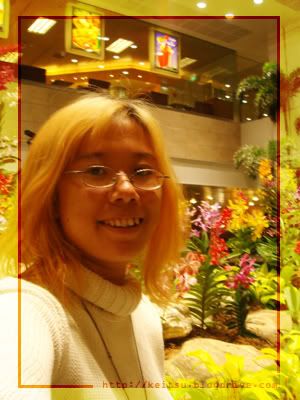 Sent a quick message back onto the forums and enjoying a leg massage.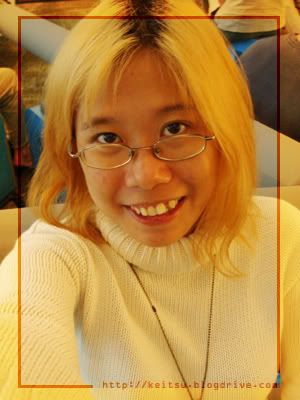 ufufufu! on the massage!
Should have eaten actually. But bladder too bloody full and I cannot leave my luggage… bah!
When on the plane… I got the back back ba---ck seat. Hell right in front of the toilet. No biggie, lol. Though not much space to lean back. Sat with a Malaysian guy who was on the way to New Zealand too to work. :D Gave a lot of tip-sie ah on what to do and get and how.
When dinner finally arrived, (nearly became a skeleton…) there wasn't any choice left so we've gotten vegetarian food. DOESN'T MATTER, IT STILL TASTED GOOD!!!
Either that or I am a sad person to say that. ('coz Alex didn't agree with me)
Then I had white wine, kusu kusu kusu.
Tasted like the red ones but nicer. Then, it was a TKO (total knockout) for me.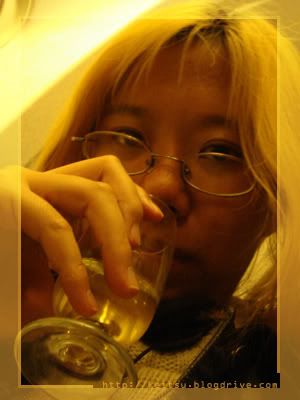 Sluuurp!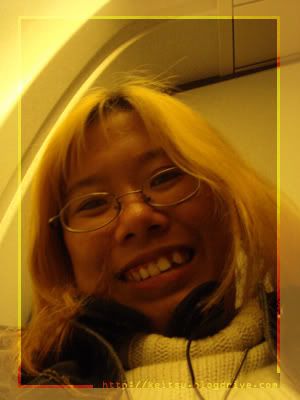 Before the knockout.
Next morn, I woke up to this question: "Omelet or waffles, miss?"
*snorts*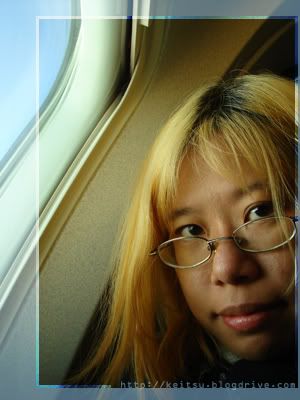 Morning!
Through breakfast, was so groggy, all utensils seem to fall off the table. Mmm.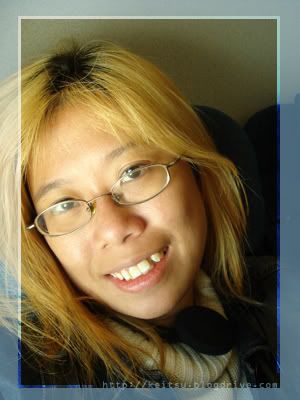 Burp!
Was bored later on as we had 3 hours to rot on the plane, and surprisingly we arrived early.
At the tip of the Horizon (boredom hits)
Among the Clouds (boredom)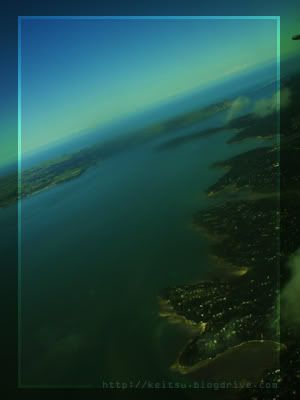 Hello, New Z!
Earth and Concrete (on the way to Auckland)
Country beside the road (still on the way to Auckland)

Then, went through customs (and I totally forgotten what was inside that I needed to claim and ended up spending RM60+ to call home) and found the guide I was supposed to look out for. You do not look for people with a paper in your hand… a WHITE paper with 30% OPACITY GRAY fonts, idiot! I'm surprised I saw that!
Mom: So early wan you awake? 10+AM I called… that would be 5 in the morn O_O

Found DeeDee and she seemed nice and sweet. (yea, and ate back my words in certain sense)
And we met up with the rest and shifted to the next plane from Auckland down to Wanganui.
===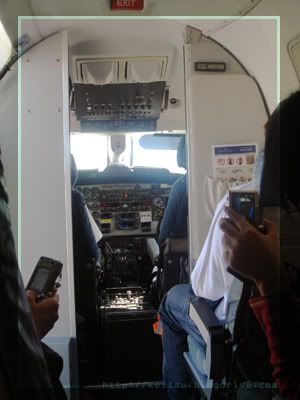 On aircraft.
And I cursed and swore after half an hour of difficult sleep due to the small aircraft that allowed a great amount of pressure in… as the pressure in the ears went UP to the head, causing one of the most legendary pain I ever had before slowly shifting down to my left eye… BLIND.
Came down with a great face, mhm, yeaha.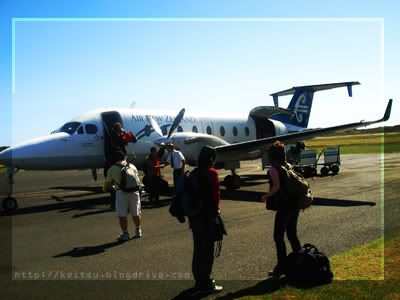 ARSEHOLE PLANE!
Whoever said Wanganui was warm due to summer is an ARSEhole. Bullshit. Got down from the plane and I got attacked but fierce cold winds. ARSEholes.
So happy to see my luggage in one piece. It seems every 1kg extra costs NZD5. They will only charge if beyond 5kg excessive.
Met Anne and Pauline. First impression? This.
O_O
Went to the warehouse and bought sleeping stuff (2 thin pillows for NZD17, a aromatic pillow for NZD20 and a cushion/duvet for NZD40). Whee. >o< Then, we were shown some good spots which I couldn't recall at first before dropping us off at the flats.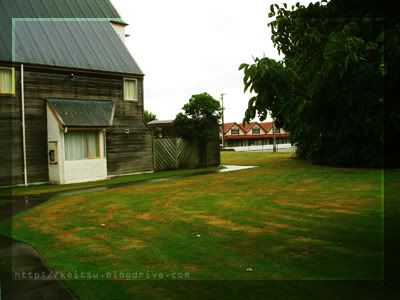 The backyard!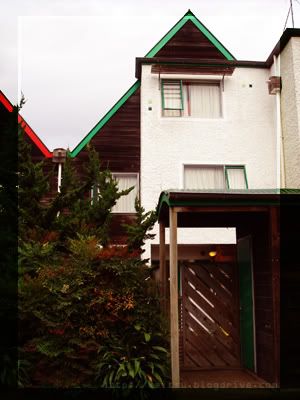 The green section is my flats... staying at the top floor on the OTHER side.
What I didn't expect was that DeeDee and I was rooming with 4 males from Malaysia…ooh. And I got the largest room in the house, wtf? O_O I'm only paying NZD100 for it, I don't care! They gave me that room, I didn't ask for it.
Luckily, my bed sheets were huge enough to cover the whole bed as the one that was on it was super dusty.
Unpacking was HELL. I wept as I took in my surroundings and what exactly happened finally hit me.
And I couldn't call back. And at night, I was a lil' shy with my new flat mates and DeeDee went out with her two other friends, I went to Burger King all alone and the lady behind the counter wasn't exactly… hospitable… =.=
Wept my sorry eyes at night, it was indeed difficult as this was the first time for being seriously away from my family. Prayed hard and long with all my amulets and slept with them, it was finally all right for the rest of the nights.
First Sunset (from my window)